2017 Volkswagen Passat: affordable luxury
August 31 2017,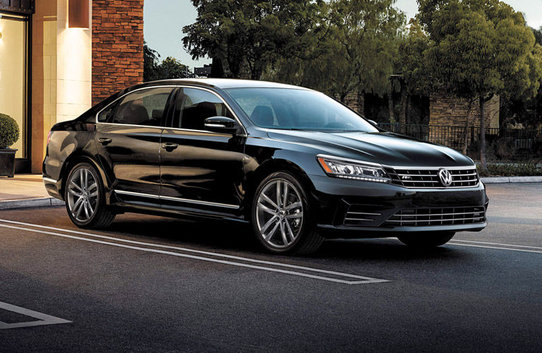 The 2017 Volkswagen Passat is kind of an odd duck in the automotive landscape. That's because it sits in between traditional midsize sedans and luxury sedans, in that its price is more aligned with Japanese and American competitors, but its refinement, level of technology, interior space and quality, performance, and overall comfort is more aligned with luxury vehicles that come out of Germany.
Impressive interior luxury and comfort in the 2017 Volkswagen Passat
The first place you notice the Passat's in-between personality is inside. The cockpit features rich materials and an impressive level of craftsmanship. In typical German fashion, the interior is modern in its design, and functional in its layout. You quickly understand where everything is and how everything works.
Moreover, you notice that the seats are both very comfortable and very supportive. Indeed, they keep you firmly in place when in curves, but they also keep you well rested on long drives.
And then there's the interior space. In simple terms, you get an incredible amount of interior volume inside the 2017 Volkswagen Passat. There is ample leg, shoulder, and head room, and there is also a very spacious and accommodating trunk that can hold up to 450 liters. That makes the Passat one of the most versatile and spacious vehicles in its class, if not the most spacious.
On the road, the 2017 Passat always feels planted and solid, and it provides the driver with an incredible amount of confidence. It reacts exactly the way you think it should, and it also feels very connected to the road.
Two engines for the 2017 Volkswagen Passat
The 2017 Volkswagen Passat features two engine options, the first being a 1.8-liter, four-cylinder turbocharged engine that delivers 170 horsepower and 184 pound-feet of torque. This engine comes paired with a six-speed automatic transmission that is both fast to react, and also contributes to improving overall comfort.
The other engine option is a 3.6-liter V6 that delivers 280 horsepower and 258 pound-feet of torque. This engine is paired also with a six-speed automatic, but the latter has been optimized to offer even more impressive performance while also being more efficient.
To learn more about the 2017 Volkswagen Passat which starts at just $25,745, contact us today at Fifth Avenue Volkswagen!