2018 Volkswagen Golf: The staple
March 30 2018,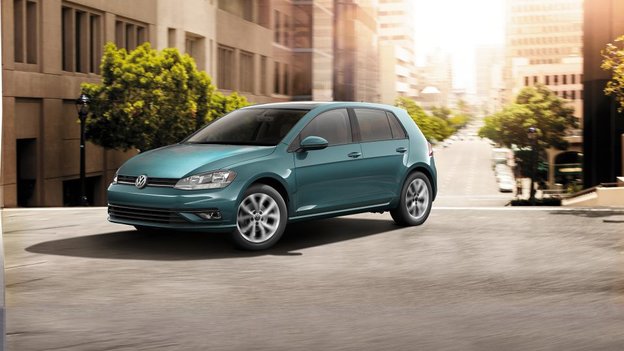 Volkswagen understands where they've come from, which helps their present and future products a great deal. Their current lineup of vehicles perfectly reflects their history and heritage, while still managing to be modern and future-driven at the same time.
A perfect example of this nod to the past and future is the 2018 Volkswagen Golf.
This hot little hatch is brimming with design and technology. The Golf's face-lift in 2016 took it to a whole new level of stylish, and it's looking the best it ever has. The Volkswagen Golf's modern and elegant lines work together to create a look unlike any other hatchback on the market.
The Volkswagen Golf is designed to fit a multitude of lifestyles (and budgets) and is as at home in the suburbs as it is in the urban jungle.
The 2018 Golf is available as a 5-door or 3-door (for the more traditional hatchback buyer). It features a large amount of trunk space for such a compact vehicle, with 1,490 litres available (with rear seats folded). There's even an adjustable cargo floor for more storage options.
Step inside the 2018 Volkswagen Golf and you'll find an aesthetically pleasing and well-laid-out interior that features intuitively placed controls, centre armrests that also house storage, steering-wheel mounted controls, and options such as heated front seats, dual climate control, and even an available 12-waypower adjustable driver's seat.
Volkswagen's not to the future is standard Apple CarPlay and Android Auto compatibility across the Golf lineup, so you stay connected and safe while driving. With the standard 6.5" colour touchscreen with proximity sensor, accessing your smartphone features is simple. And if that's not enough, there's an available 8.0" screen for added visibility while you browse Volkswagen's host of onboard apps, navigation and entertainment features, as well as your own apps once your phone is hooked up to the system.
Only one engine is available across the board: a 1.8L TSI turbocharged. This unit pushes out 170 horsepower and 200 lb-ft of torque, and can either be paired with a 5-speed manual transmission or 6-speed automatic. The manual can be selected across the lineup, even in the higher trim levels.
Head down to your local Fifth Avenue Volkswagen dealer today to speak to one of our experts about the 2018 Golf and all it has to offer, and don't forget to book a test drive.