2019 Volkswagen Jetta: improved at every level
January 31 2018,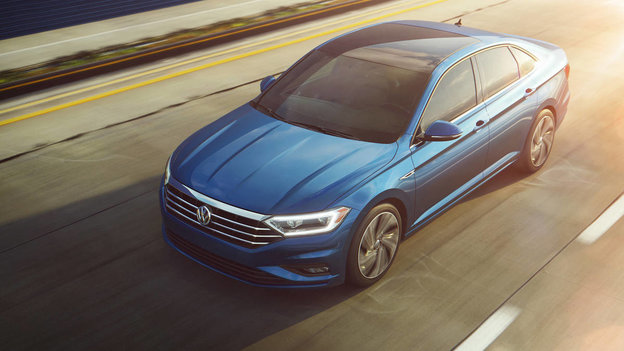 Both VW owners and enthusiasts have been waiting a long time for this new 2019 Jetta. After all, the Jetta is one of the most popular compact sedans in the country, but it's also one of the most unique cars in its segment. Indeed, Jetta owners like to drive, and the Volkswagen is one of the few cars that offer a real driving pleasure to its driver. So whenever a new-generation Jetta is introduced, a panoply of loyal fans pays attention.
A new, more spacious 2019 Volkswagen Jetta
The new Jetta is the newest Volkswagen model to be built on the German manufacturer's modular MQB platform. This platform makes the 2019 Jetta even more spacious in addition to offering better handling and increased safety.
The 2019 Volkswagen Jetta is longer, wider and taller than the model it replaces. It offers a large interior that should prove to be one of the most spacious in its segment. But that's not all. The new Jetta is also equipped with advanced connectivity technologies including Apple CarPlay and Android Auto.
Visually, the 2019 Volkswagen Jetta is more muscular, but also more elegant. It incorporates several elements already seen on the new Volkswagen Tiguan and Atlas including standard LED lights and a few hints of chrome here and there that give the Jetta a touch of refinement and class. The Jetta is also more fluid in its design which gives it a coupe-like appearance.
In terms of options, there will be 10 choices of colors and several comfort features including heated and ventilated seats, seat memory and leather seats as well. There is also more storage space both front and rear. There is also a host of new safety technologies in the new Jetta including a rear cross-traffic monitoring system, adaptive cruise control, automatic high beam and lane departure warning system.
A proven engine for the new 2019 Volkswagen Jetta
Under the hood, the 2019 Volkswagen Jetta will feature a 1.4-liter turbo four-cylinder engine that develops 147 horsepower and 184 lb-ft of torque. This is the highest torque offered as standard in any vehicle in the category. A new 8-speed automatic transmission delivers performance that meets buyers' expectations with better fuel economy. A six-speed manual transmission is also available!
To find out more about the new 2019 Volkswagen Jetta, contact us today at Fifth Avenue Volkswagen!