The new 2019 Volkswagen Jetta is sure to impress you
February 27 2018,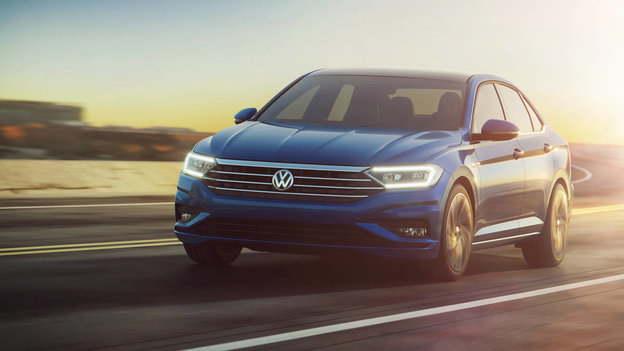 With its new 2019 Volkswagen Jetta, German carmaker Volkswagen shows how capable it is when it comes to building luxurious, refined, stylish, and technologically advanced vehicles. Mostly its attributes are associated with luxury vehicles, but in the case of the Jetta we can consider it as a luxury car in its segment, as it is the only one to be developed in Germany in the compact sedan segment.
A new platform and more space for the 2019 Volkswagen Jetta
The new 2019 Volkswagen Jetta will be built on a brand new platform called MQB that serves as the foundation for the majority of new Volkswagen vehicles built in recent months. With this new platform, we are entitled to a Volkswagen Jetta that is more spacious, more comfortable, and much more stable and solid on the road. Indeed, the benefits of the MQB platform are numerous, and it is the owners of 2019 Volkswagen Jetta that will enjoy them the most.
The cabin has also been significantly improved in terms of styling while the dashboard displays a modern and elegant look. It will even be possible to get in the new generation of Jetta a fully digital instrument panel housed in a 12.3-inch screen behind the steering wheel. This device called Virtual Cockpit increases the luxury of the interior of the new Jetta while also being very functional.
A range of driver assistance technologies are also on the menu, including adaptive cruise control, lane departure prevention and detection, and more.
A powerful and economical turbo engine in the new 2019 Volkswagen Jetta
The new 2019 Volkswagen Jetta will benefit from a four-cylinder turbo engine developing 147 horsepower and 184 lb-ft of torque. With this engine, the new Jetta will be one of the most powerful cars in its segment, but also one of the most fuel efficient thanks to a new 8-speed automatic gearbox.
It will also be possible to obtain a six-speed manual gearbox. More elegant than ever and improved at every level, the new 2019 Volkswagen Jetta has a lot to offer. Contact us today at Fifth Avenue Auto Haus to learn more!