Find Winter Tires for Volkswagen Vehicles in Calgary, AB
Protect yourself and your family from the dangers of winter driving by taking the necessary precautions. As you navigate the unpredictable, icy roads in Calgary, equipping your vehicle with the proper tires is essential. The expert team at the Fifth Avenue VW Service Department understands the importance of safe driving, which is why we recommend our customers consider investing in winter tires.  By making this investment, you'll not only increase your safety on the road, but also enjoy a smoother and more comfortable ride.
Read More:
Getting Your Car Ready for the Upcoming Winter Season
What Are the Signs You Need New Winter Tires?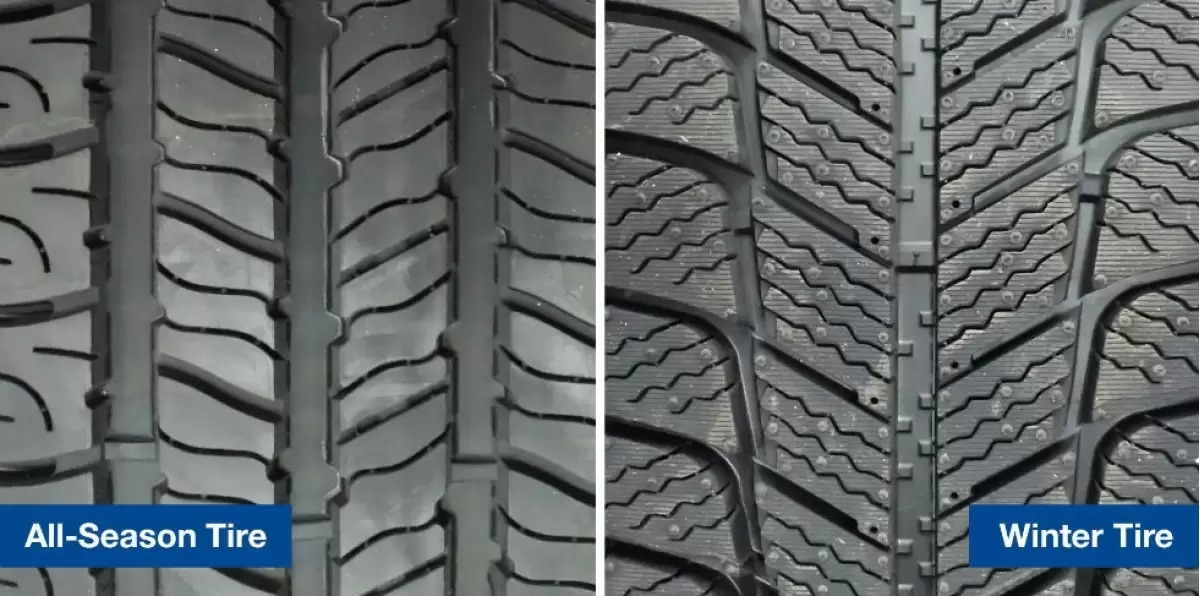 Winter Tires VS All-Season or Summer Tires?
Unlike all-season or summer tires, which can stiffen and slip in the cold, winter tires are made with a unique tread pattern and rubber compound that remain pliable in lower temperatures, below 7° C. They offer superior grip and traction on snow, ice, and slushy roads. You'll also appreciate their deeper tread depths and wider channels, which reduce the risk of hydroplaning and improve overall handling, making your winter driving experience safer, smoother, and more enjoyable.
What Features Make Winter Tires Effective In Cold And Slippery Conditions?
These specialized tires boast a variety of advanced features that are specifically designed to perform well in cold, slippery conditions. For example, the soft rubber compound used in winter tires keeps these tires flexible and responsive, even in the coldest temperatures. Additionally, these tires are designed with deeper treads and small slits called, sipes, to help them grip onto snow and ice with greater ease. Finally, winter tires often feature a more aggressive tread pattern with larger blocks, which helps to improve overall stability and handling in difficult driving conditions.
What Are The Different Types Of Winter Tires Available And Their Respective Benefits?
Our team of experts will guide you through the wide range of options available to you. Make your choice from studless winter tires that promise superior grip on snow and ice, thanks to their soft rubber compound and intelligent tread design. Alternatively, consider studded winter tires, which feature tiny metal studs inserted into the tread blocks to maximize traction on slippery roads. For drivers of high-performance vehicles, don't miss the chance to invest in our exceptional performance winter tires that offer unbeatable handling and grip on winter roads. Visit us today to upgrade your winter driving experience.
When Should I Change My Summer Tires?
Winter driving can be treacherous in Alberta. To stay safe on the slick, snow-covered roads, experts recommend changing to winter tires before the first snowfall. Don't let the chilly temps fool you though, even if it's above freezing, all-season or summer tires become inflexible and lose their grip, putting you and your passengers in danger. Remember that winter tires are essential when temperatures fall below 7° C (44° F). At Fifth Ave VW, we want you to stay safe and comfortable on the road, which is why we offer a wide range of winter tire options. From an affordable set to a high-end, performance-enhancing option, we've got you covered, so you'll be able to tackle even the roughest winter weather with ease.
What Should I Consider When Choosing Winter Tires For My Car?
There are numerous factors to consider, including tire size, tread design, and speed rating. The perfect tire size is crucial for optimal handling, while the tread design should be selected based on your driving needs and the winter conditions of your area. Lastly, a compatible speed rating is essential for safe driving. At Fifth Ave VW, we aim to make your tire selection process simple and effective, offering a range of solutions that provide both safety and maximum performance.
Contact Our Team Expert
Don't let winter driving cause you unnecessary stress or danger. Winter tires are a must-have investment for anyone traversing Calgary during the colder months. Not all winter tires are created equal, however. By selecting the right ones for your vehicle and habits, you can improve your traction, handling, and braking in slick and snowy conditions. Even better, using winter tires can potentially reduce the long-term costs associated with wear and tear on all-season or summer tires. At Fifth Ave Volkswagen, we're here to help you choose the best winter tires and expertly install them for optimal performance and safety. 
Don't wait until the first snowfall to start thinking about your winter driving needs. Contact us today or stop by our dealership to talk to our knowledgeable team and get peace of mind for the season ahead.